WEDDINGS ARE WHAT WE DO!
We book other types of events from time to time but we specialize in Wedding DJ Entertainment. From making sure the music cues are executed perfectly during the ceremony, to mixing music live for a dance party, we know what it takes to ensure you have an unforgettable wedding day. Informed by extensive experience with musical performance in addition to years spent in stage production, concert lighting, and event coordination, we work closely with every couple to provide them with the wedding of their dreams. Our biggest drive is a passion for our couples. It's an honor and a source of great fulfillment to share their wedding day with them, their friends, and family.
TOP NOTCH WEDDING DJ ENTERTAINMENT
100 % CUSTOMIZED JUST FOR YOU!
WE HAVE EXPERIENCE WITH ALL EVENTS
PREMIUM WEDDING DJ PACKAGES
RALEIGH WEDDING DJ EXPERTS
---
$300 SAVINGS WHEN BUNDLED!
---
$250 Savings when bundled
---
$200 Savings when bundled
ALL PREMIUM PACKAGES INCLUDE
PREMIUM ENHANCEMENTS
CUTTING EDGE FEATURES TO ELEVATE YOUR WEDDING DAY
UPLIGHTS
(Starting at $200)
These lights are placed around the walls of your venue and pointed upwards towards the ceiling to create a column of color, customizing your venue and taking your wedding to another level. Choose lighting colors that enhance the space for your reception and you can even set them to react to the music for your dance party.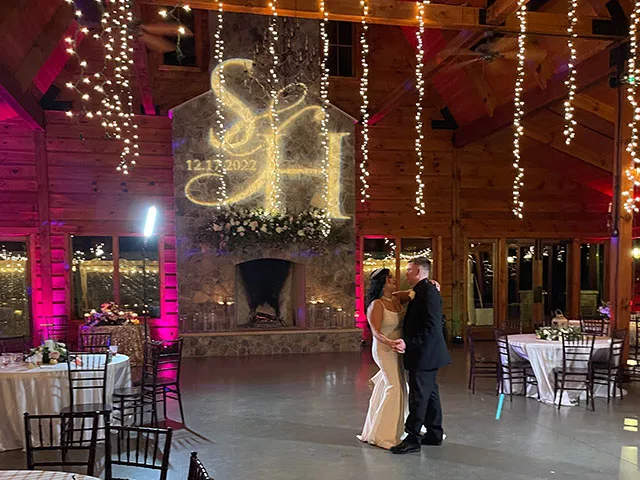 CUSTOM MONOGRAM
(add for $275)
Shine your signature for your guests to see with a custom monogram. This high-powered light shines through a custom steel plate we have ordered with the font and message/initials of your choice to create a stunning personal touch. Custom designed steel stencil is yours afterward as a cool wedding souvenir.
VIDEO SCREENS
(add for $295)
Roll your reel for guests to see during your reception with our slideshow video package. Two high definition screens are placed on white stylish stands that can display anything from a photo slideshow of your journey together as a couple, to videos from your dates and trips you took together. Elevate your wedding.
SPARK FOUNTAINS
(add for $595)
Accent any special moment with spark fountains! These fountains are safe for indoors and create cold sparks without smoke or heat. They turn your Grand Entrance, First Dance or Dance Party kickoff into a "WOW" moment for you and your guests. Couples who upgrade their package with this say "it's worth it"!
5 STAR RATED WEDDING DJ ENTERTAINMENT
Host a wedding they'll never forget!
ASK ABOUT OUR
MILITARY & FIRST
RESPONDERS
DISCOUNT!
WE THANK YOU FOR YOUR SERVICE!
WEDDING DJ SETUP
I bring some of the best audio, lighting, and DJ equipment out there to all my weddings. Sound isn't just sound, every choice made can either add toward the quality of the end product or take away. My sound gear consists of a JBL EON600 series system for highs. The 15″ model I use for Wedding Receptions/Dance Parties is a high-quality choice and reaches across large spaces for any guest list size.
For bass frequencies, I use either two or four QSC HPR 181 which has the potential to shake the entire room (or just fill the space nicely with firm yet flexible low-end frequencies) depending on what you're looking for.
To mix songs I use software called Traktor Pro 3 on my Apple Macbook Pro laptop controlled by a Traktor S4 controller. This system has provided outstanding sound to many weddings and events with ease, great for any party.
When it comes to lighting, I make sure my setup is lit up as well as the venue and dance floor. I use 4 ADJ UB 12H LED color bars to color my setup and the wall behind. For dance party lights I use 4 ADJ Contours that look like LED disco balls and project colored patterns across the dance floor. For an extra flair of dance party excitement, I bring 6 Inno Pocket Z4 moving head fixtures. If you choose an uplighting package, positioned strategically across your venue you'll see 8 or 16 Mega Tripar Profile Plus fixtures.
Lastly one of the key ingredients of my Wedding DJ setup is the 4 Panel Vinyl Tufted Facade. It has a professional look and really brings the whole setup together.
LIGHTS
Lighting isn't just for rock concerts. When properly done, wedding lighting can create a very elegant and extravagant look. The more polished your venue looks, the more fun everyone will have being in that space. We use a few different kind of lights to pull this off.
Uplights
These lights are placed around the walls of your venue and pointed upwards towards the ceiling to create a column of color, customizing your venue and taking your wedding to another level. Choose colors that enhance the space for your reception and even set them to react
Dance Party Lights
This is a combination of lights that wash color onto surfaces like the walls behind the DJ, the facade in front of the DJ table, the floor, etc. and lights that shine beams and patterns throughout the venue. We select professional lighting fixtures that simulate commercial-stage lighting (concert, theater) instead of cheaper fixtures that you'd see at the mall or a gift shop for your dance party.
Monogram Projection Lights
Using these standard theater overhead lights, you can have a custom logo or monogram cut into steel discs and place it into these fixtures in order to project the image onto a floor or wall of your venue space. This creates a signature feature that personalizes the venue in a special way. The bride and groom usually feel as if someone crafted their venue just for them.
PROFESSIONAL EMCEE
One of the most overlooked and important aspects of weddings is how the event emceed. Once the ceremony and cocktail hour is complete, the rest of the wedding will be led by an emcee. From the Grand Entrance to toasts, cake cutting to dance party, the emcee contributes much toward the overall feel and flow of your wedding.
As a professional and experienced host, I make sure all weddings have a high-end and warm touch. My goal is that your guests feel comfortable celebrating so that you and your fiance have the best time possible. This involves properly introducing special people, moving the event forward from key moment to key moment, guiding guests around the facility, and making sure everyone feels taken care of.
I've always been able to sing and speak on stage and in front of crowds. For 7 years I worked at WCPE – The Classical Station where I recorded voice and produced commercials and announcements that aired during the day. I hosted 1 pm-4 pm for a couple of years live every weekday. Having to pronounce classical composers and performers from every country on Earth also brings comfort in pronouncing the names of the special people in your bridal party.
For each wedding or event, I Emcee, I bring a very unique and exciting style to the rhythm of the event. I am confident I have what it takes to give you exactly what you have imagined and planned for.
ROMANS 10-9
"… If you confess with your mouth that Jesus is Lord and believe in your heart that God raised him from the dead, you will be saved."